Imagine the scenario:
A girl is chasing a guy in the boys' hostel and she is forcing herself upon him – to kiss and to make love. Guys are shouting from behind. Nobody dares stop her. She kisses and just goes away to her hostel room with a broad smile of victory on her face.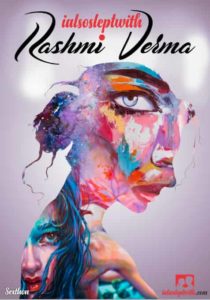 Yes, this is the character named Rashmi Verma that you will meet in Love Thon's (pseudonym) novel I also slept with Rashmi Verma. This novel has been written with a female protagonist at the centre who is shown as a girl studying in a management institute and notorious for her activities and taking sexual acts too casually. There are a number of boys who claim to have had sex with her and this is what gives way to the game among the boys in the hostel – I also slept with Rashmi Verma, a game where every guy has to share his story with her.
Well, while Indian readers have welcomed the erotica genre with open arms, there are many authors who are trying their hands at it and so is Love Thon. Though has he come with a changed name, that doesn't make his novel less erotic. It has the scenes of campus life and that's supposed to be little fun, little casual and also little sexual. So, for the target readers of this book, the novel is very apt.
I have read a few erotic and campus novels in the past. Most of the novels in this genre often bring a lot of sex-depictions and exciting writing that make only one sense – keep the readers busy as if they are watching a semi or completely adult movie. However, I also slept with Rashmi Verma seems a little different. There are no outrageous sex scenes in this novel. Yes, there are descriptions of intimate scenes at times. Moreover, the conclusion is something that gives the readers a different picture, even in an erotic campus fiction.
There are many characters in the novel but the dominant ones are Rashmi Verma and Motu, the narrator of this novel. Written in a first-person narrative, the novel is a one-time read. I enjoyed the perspectives, and imagination is also not very much beyond the 'normal' range of human perception. However, the plot is limited. Also, the story is not supported very well with the limited narrative. Having said all that in the cons section, let me assure the young readers that this novel will keep you all indulged until the last. And make sure you read it completely because a big surprise awaits you in the conclusion section.
You can enjoy fun, a story and some erotica… get a copy of this novel from Amazon below:
review by Ashish for Egoistic Readers
I also slept with Rashmi Verma
Summary
A casual read… one-time for the readers of casual and erotic fiction. Some humour there and some bitter truths…